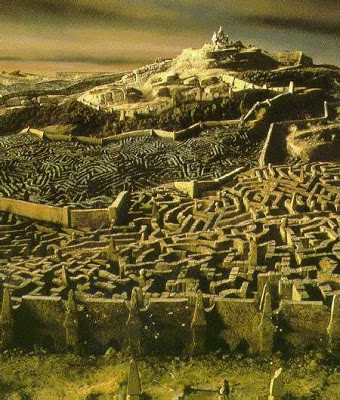 This is the labyrinth where the daughter of Aphrodite is held captured.
The Labyrinth
Edit
The labyrinth is made of dark, old stone with walls of half a meter thick, sometimes even a meter. The corridors are endless and seem to change a lot. There are also places where you keep walking in circles. At several of places in the labyrinth, there are open places, usually with trees, fresh air and a fountain. It seems like a peaceful place to rest. But the monsters that are hidden in the labyrinth might come out there. 
This labyrinth contains almost all the monsters from the Greek myths. Most of them got deafeted and reincarnated in the labyrinth by the god of death. Others got brought there by him. 
The labyrinth isn't only a place to store the monsters, but in the middle of the labyrinth, there's a palace. In that, the labyrinth continues. The labyrinth ends in several of hallways, each with a door, leading to a room. Most of the rooms contain traps. But there's one door that leads to another hallway. In that hallway is the Chimera. The Chimera is guarding the room at the end of the hallway, the room where Chrysanthe is captured. 
In the labyrinth there are several of monsters. Here's a list of a big part of these monsters. 
And many others.