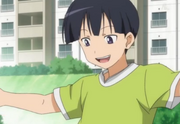 Nogashita Mindiou is the best friend of Fukuro Chichan.
He's part of the rebellion and always jokes around.
Appearence
Edit
Mindiou has got dark blue hair and dark blue eyes.
He has normal length.
Personality
Edit
He's very funny and sarcastic all day long, which both amuses and annoys everyone of the rebellion group.
He's a nice person, and always helps Chichan out.
He feels useless for the rebellion, even though he has abilities too.
Background-Plot
Edit
Mindiou grew up in Takaoka, where he met Chichan at elementary school.
They became best friends, and met several people together, like; Anima and Soyashi.
His family agreed with the Second Stage rules, for Mindiou and his sister's sake.
Mindiou followed Chichan to the forest and became a member of the rebellion.
When the group didn't listen to his plan, he walked outside.
When Asteria talked to him, he tried to hide his small feelings he has for her.
When Saru yelled everyone should hide, after going near the agruement in Toyoma, he hide behind a car with Chichan.
When Saru shot the gun out of Anima's hands, Chichan caught it, gave it to him and he ran away, because he needed to pee anyway.
Abilities
Edit
He can cheer people up with his jokes.
He can hurt anyone with anything, due the fact that he hurt a guard with a sharp button.
He's very good verbal in fights.
Relatives
Edit
Unknown mother
Unknown father
Unknown sister - about to get born