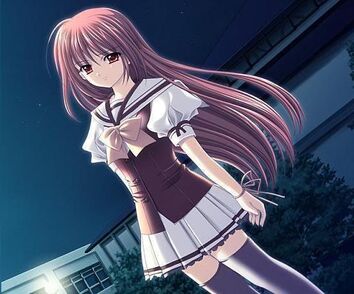 Ayase is a rich, 15-year-old girl. 
Background
Edit
Ayase is the daughter of a rich businessman. Her father is pretty strict and wants Ayase to be a real lady with good manners and a good reputation while Ayase wants to live a normal life without all the rich stuff, private lessons, guards and maids. She once went to a normal school, but when people found out she's rich, they hang out with her only because of her money. Ever since then she keeps her surname Naori hidden. She tries to act like a normal girl around people, even though that doesn't work a lot of times. 
Ayase has almost no friends because she's afraid people only hang out with her because of her money. Due to that she keeps people at a distance. The only real friend she has is her maid Emily. 
Ayase has to follow private lessons about manners and a lot of fancy lessons. She gets annoyed by the behavior of her father so she sneaks out of her room in the middle of the night. She always goes kicking a soccerball against a wall until she's calmed down.
Personality
Edit
Ayase is a friendly, caring and calm girl. She's pretty quiet usually, except when she's at her ease. 
Appearance
Edit
Ayase has long, brown- red hair and red eyes. She's skinny. She's usually dressed in a fancy dress or neat clothes.