Grace is used as a 4/5-year-old or as a 15-year-old girl in Normal RPs.
Background
Edit
Grace is the daughter of Diana Hearts and Tyler Shōrai. She was born 8 months after Diana found out she was pregnant, just before she got imprisoned by a guile. She got out with help from Tyler, Emeril and Danny. Over a year later after she was born, Grace met Emeril's and Danny's son, Xavier. They became really close and even ended up as each other's first loves at a really young age. At the age of 5, Grace was still like this with Xavier. But less than a year later, they got seperated because Xavier moved. Emeril and Danny put Xavier in the same kindergarten as Grace, until she attended elementary school. Grace slowly started to forget about him until they ended up in the same class at middle school, due to Xavier skipping a year. 
Personality
Edit
Grace is a shy, friendly girl who wants to help the people around her. She's smart and pretty good at subjects like Math and Chemistry. Grace loves dogs and is especially attached to her own dog, a Shiba Inu with a bit of black in its fur, which she got as a birthday present on her 5th birthday. 
Ever since Grace was born, she seemed to be different from others. She's sensitive for other people's mood. She notices when they lie, when they're happy, sad, or hurt, etc. This causes that people find her a weirdo or make people mad at her for telling the truth about their feelings.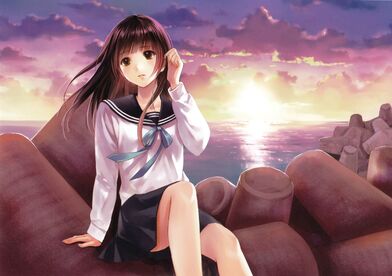 Appearance
Edit
Grace has brown hair and brown eyes with green spots in them. Her skin is a bit white and wealthy. She blushes pretty fast and the look in her eyes mostly expresses her feelings pretty fast.