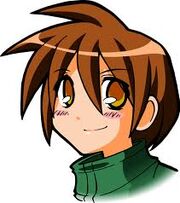 Biography
Edit
Bob is just a small boy who does his school work everyday to a very high standard. He loves watching SpongeBob SquarePants in amongst doing his homework and moderating wiki chats. He is happy to answer questions and tries to be there when people need him.
Appearance
Edit
He likes to keep well presented with nicely combed hair and smart-casual clothing. He wears glasses occasionally to see the whiteboard in the classroom and they have wooden pattern embossed on them.
Personality
Edit
He is very soft and caring towards other people. He can often show leniency in certain situations as he feels people can change their attitude. However, he can get a little frustrated when people are trolling him but is currently working on controlling that.
His personality derived from his parents.
Bob
Age
16
Occupation(s)
Moderator on Wiki Chats
Friends
Most users on Wikia
Enemies
None, hopefully.